About Circuit Board Assembly
Jaycon knows a thing or two about circuit boards — our engineers design electronics all day long while making it a goal to improve them for assembly and manufacturing. Our flexibility in manufacturing allows us to adjust production volume to align with our clients' growth. We offer in-house prototype level assembly as well as offshore high volume assembly. We also provide value-added services so everything is done under one roof — starting from component sourcing and PCB fabrication all the way to programming, testing, packaging and shipping.
DELIVERABLES: Finished assembled units
AVAILABLE SERVICES: PCB fabrication, hand assembly or SMT line assembly, stencil, hardware part sourcing, rework, testing & programming
Circuit Board Assembly Services
Jaycon has been working with our exclusive circuit board suppliers for almost a decade to provide us with high-quality bare boards ranging from from 1 to 12 layers.
Our team is able to assemble prototype batches by hand in order to uncover any assembly challenges before going into mass production.
Our in-house SMT line allows us to go from small prototype batches to thousands of boards, adjusting production according to our clients' demands.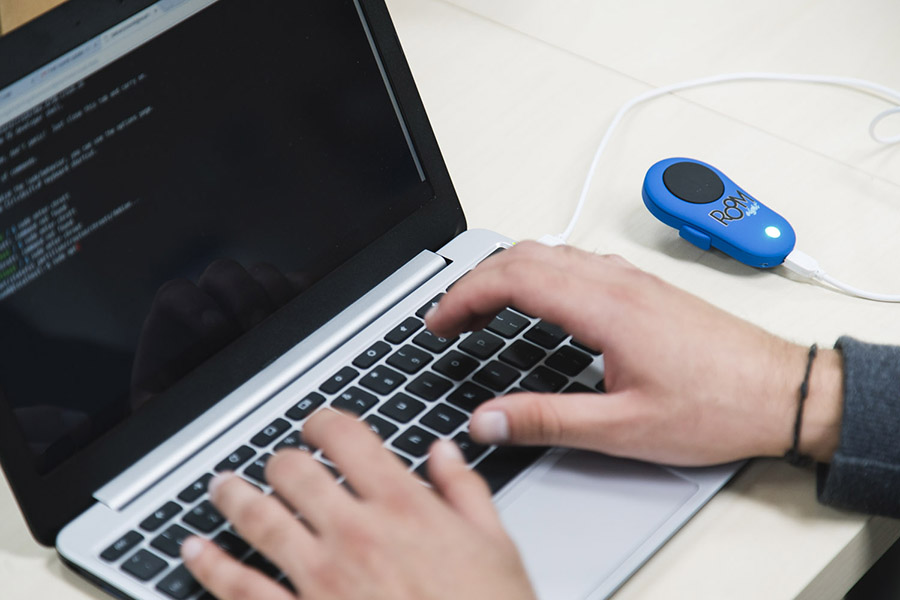 Besides offering circuit board assembly, we are able to test and program boards by hand or by developing custom test fixtures for higher volume production.
Circuit Board Assembly Capabilities & Specifications
MOUNTING
SMT

Through-hole

Single sided

Double sided

Press fits
PICK AND PLACE MACHINE
Mounting capability (CPH): 600,000 nominal

Fine pitch capability

BGA
PRODUCTION VOLUME
Rapid prototyping

Low volume

Large production runs
BOARD SPECIFICATIONS
Maximum board size: 530mm x 450mm

Maximum board thickness: 3mm

Minimum board thickness: 0.4mm

Smallest chips size: 0201

Minimum QFP pitch: 0.2mm

Ball pitch: 0.2mm

Maximum layers: 12
CAPABILITIES
Vision screen printing: solder paste

Hand forming and lead trimming

Ultrasonic welding: plastic cases sealing

Conformal coating: coating measurement facility

Rework capability

Manual tester

Wave soldering

Selective soldering
SECONDARY OPERATIONS
Component sourcing

PCB fabrication

Programming

Testing / custom test fixtures

Final assembly

Packaging
TESTING
AOI

Manual testers

Pass or fail indication

Test data backup

Visual check: video, microscope, magnifiers

X-Ray Testing
Our Circuit Board Assembly Work
Scale up your PCB production at your own pace
Your PCB demand today isn't the same as a year from now — we understand that and adjust accordingly.
Need other services?
Have you considered manufacturing your PCB enclosures with Jaycon? We offer plastic manufacturing, sourcing, as well as assembly services so you can worry more about growing the business and less about logistics and supplier management. We work with products at different stages of the development process, so whatever stage you are at, chances are that Jaycon's engineers, designers and project managers can help you go one step further.
Plastic Injection Molding
Injection molding is one of the most affordable ways of producing plastic parts at high volumes. At Jaycon, we help you achieve the best results for a competitive price even at low volumes.
CIRCUIT BOARD DESIGN
Our knowledgeable electrical engineering team will create a board layout and schematics from your product requirements document so it is ready to go into manufacturing.
PRODUCT DESIGN
Our team of engineers & designers work closely with you to translate ideas into real life products, going from ideation and design to prototyping and manufacturing quickly and affordably.
Prototyping
If you already have your product designed and want to bring it to life with the right manufacturing process, Jaycon can help. We offer CNC machining, 3D printing and circuit board prototyping services.